Unlike most golf equipment, golf balls are bought on a fairly regular basis, so next time you're out shopping for a fresh dozen, keep some of these considerations in mind to ensure you're getting the right ball for your needs.
They're round, dimpled, and are just about all the same size, so what's the key behind finding the right golf ball for your game? Despite their obvious similarities, each golf ball is developed with a different audience in mind, appealing to golfers' preferences, swing speeds and on-course requirements to help them shoot lower scores. So whether you're new to the game, or have played for years but need a refresher on the basics, here's a breakdown on what you should take into account when buying your next sleeve.
Your Swing Speed
 How fast you swing the club has a direct consequence on which ball you should be using. A lot of manufacturers employ technologies and features that only take effect when being struck at a certain velocity. Multi-construction golf balls typically require a faster swing to compress all the elements involved, usually 100 mph and up, while two-piece balls are great for those who swing slower and could use some added help. The key is to maximize your swing speed with a ball that is designed to leverage the most out of your game.
The best golf balls for 85-95 mph swing speed is a medium compression (hardness).
For new golfers see the below list for our top selections …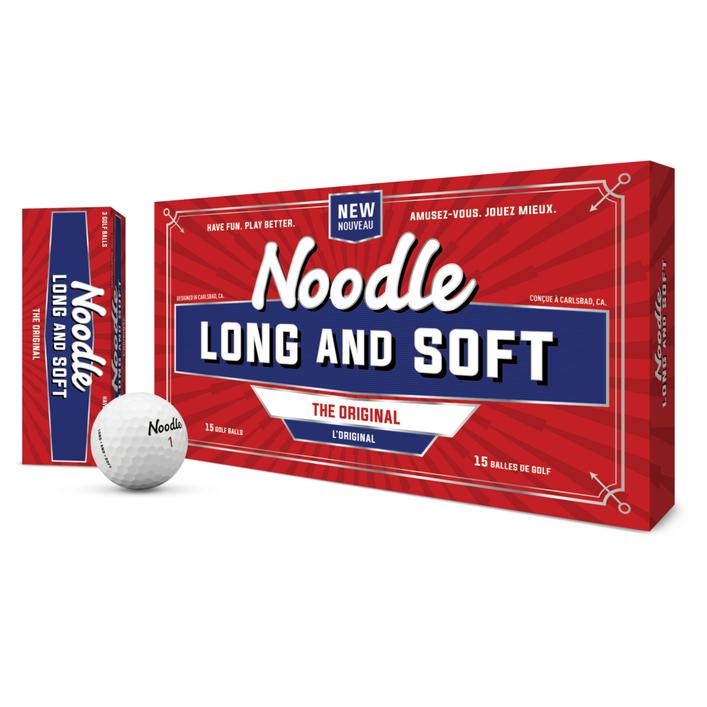 Noodle Long and Soft Golf Balls – 36 Pack
Spin
Spin is one of the most important elements of a golf shot, and it all starts with the golf ball. Typically when people think of spin they imagine wedge shots zipping back to the hole, and although that's a big piece of it, spin plays a major role throughout every club in the bag. Too much spin promotes wayward trajectories, while not enough spin can have a knuckleball effect and limit distance. If you have a tendency to hit high, slicing shots that don't deliver a penetrating ball speed, you're likely spinning the ball too much. Some golf balls that can help you cut down that spin are Pro V1, TaylorMade TP5x, Callaway Chrome Soft X LS, and Bridgestone Tour B X. Hitting shots that seemingly fall out of the sky? Not enough spin, take a look at TP5 Golf Balls – White, Z-Star Golf Balls – White, Tour B RXS Golf Balls or 2020 Chrome Soft X Golf Balls
Distance
 Everyone loves more distance, but it's important to weigh the cost-benefit of pure power when playing a new ball. Hitting it long can undoubtedly be a great help on the course, but sometimes more distance means less of the something else, such as feel, or consistency. If getting it out there is what's really holding your game back, then prioritize a ball that's firm and fast to help deliver that extra pop off the tee, otherwise take a more encompassing approach with a well-rounded ball that checks a lot of boxes.
Visual Aids
Increasingly popular and now a staple on virtually every ball on the market, visual aid technologies help players align their putts and deliver eye-catching patters for heightened focus. Once you've settled on a ball, it may be worthwhile checking to see if it's available with visual aid assistance features to benefit your game. From Callaway's Triple Track technology to TaylorMade's Pix line, there's more ways than one to dial in your stroke.
Visual Alignment
For the golfer looking to for the best alignment to sink every putt see the below list for our top selections …
Chrome Soft X LS Triple Track Golf Balls
2021 ERC Soft Triple Track Golf Balls
Colour
2021 Supersoft Matte Golf Balls
e12 Contact Golf Balls – Matte Red
e12 Contact Golf Balls –  Matte Green
Price
 Dollars and cents always play a role in whatever you're purchasing, especially when it comes to golf balls that often find themselves in unrecoverable situations. Fortunately, the golf industry provides robust offerings at a variety of different price points. First and foremost, learn what type of ball best suits your game, and then browse that category to find a price point that works on the course and in the wallet.